Chanderpaul awarded Golden Arrow of Achievement
The government of Guyana yesterday awarded  Guyana  and West Indies cricketer Shivnarine Chanderpaul with a general  award within the  Order of  Service of Guyana.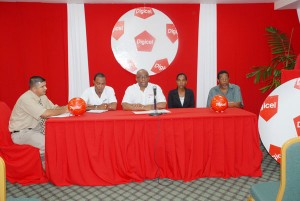 According to a release from the Office of the President yesterday, Chanderpaul was given the Golden Arrow of Achievement (A.A)  one of three awards within the Order of Service.
Awards in the Order of Service rank third behind the Order of Excellence which is the country's highest award and the Order of Roraima.
Following is the release: "His Excellency Bharrat Jagdeo, President of the Republic of Guyana, Commander-in-Chief of the Armed Forces of Guyana and Chancellor of the Orders of Guyana, is pleased to appoint Shivnarine Chanderpaul as a member of the Order of Service of Guyana and has awarded him the Golden Arrow of Achievement for "his consistently outstanding performances as a cricketer, especially as a batsman, at the national, regional and international levels."