New weekly direct flight to Toronto starting Monday
Air travel between Georgetown and Toronto will benefit from an immediate and significant boost with the introduction of a weekly, all-year-round service between the two cities,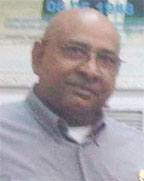 Stabroek Business has learnt that the new Sky Service flight which will employ a leased 757 jet is being provided by Sunrise International Travel, a Guyanese-owned, Toronto-based Travel company. The inaugural flight will leave Toronto at around 17:30 hrs on Monday, December 7th and is expected to arrive in Georgetown early the following morning. It will depart Guyana on Tuesday evenings and arrive in Toronto the following morning. Thereafter, the service will continue on the same schedule.
An inaugural reception will be held at the Cheddi Jagan International Airport, Timehri prior to the flight's departure next Tuesday evening. The service is being operated by Toronto-based Ram Tiwari
Yesterday, Chief Executive Officer of Roraima Airways, Gerry Gouveia confirmed that his company will be in charge of the ticketing and ground handling operations.
The new flight will add to the existing Caribbean Airlines service between the two cities via Port-of-Spain.
Over time, Guyanese travelling between Toronto and Georgetown have expressed the desire for a service that removes the inconvenience of transit stops with its implications for waiting time, delays and inconveniences associated with baggage handling. A source with the company providing the new service has told this newspaper that a direct flight between Canada and Guyana has been "very much sought after" by travellers for some time. "We believe that the service could increase both business and leisure travel between Guyana and Canada.  Certainly, it is likely to be good for Guyana's tourism industry since it will now make access to Guyana from Canada much easier," the source said.  The most recent direct service, Zoom, had to shut down operations last year.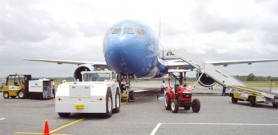 The source described Sunrise International Service as "a professional travel service that has been operating in Canada for several years." The source added that Mr. Ram Tiwari, the owner of the service has "demonstrated a great deal of passion to provide the service" and that planning has been in train for more than seven months.
Ticketing and ground handling operations for the new service will be handled by Roraima Airways and yesterday Gouveia confirmed that his company expects to handle the maiden journey next Tuesday morning. "While Roraima Airways obviously has considerable experience in providing these services we are working to ensure that we provide our customary high quality of service in this instance since it obviously has implications for enhancing air travel between Guyana and Canada. These implications apply to business and leisure travel and, significantly, to tourist travel between a major North American capital and Georgetown," Gouveia told Stabroek Business.
Stabroek Business has learnt that Roraima has also posted the US$200,000 bond required by the Government on all international flights to Guyana.