Skeldon woman chopped, stabbed to death – relative held
The body of a 43-year-old mother of three was discovered at her home at Line Path, Skeldon, Corentyne, Berbice around 10 am yesterday with chop and stab wounds and a close relative is in police custody assisting with investigations.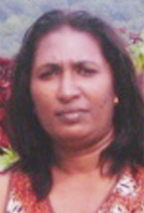 Nalini 'Nalo' Bhoge who was reportedly at home alone at the time of the murder was found lying in a pool of blood with chops to the back of her head and neck and at the sides of her neck as well as four stab wounds in her upper back.
Police found a bloodstained cutlass and an ice pick, suspected to be the murder weapons, at the scene. A police press release said the woman's body was found at her home with several chop and stab wounds.
The woman's husband, Budhnarine 'Minko' Bhoge, 51, told Stabroek News that he had left home to drop his two youngest daughters, Khishana, 10 and Pravena, 8, to school. He said he then went to the bank and then to a gas station at Corriverton before returning home.
He said he met two of his colleagues at the gas station and they chatted and then he gave one of them a lift to the store and dropped the other one home.
He related that he went into the house through the front veranda door, which was open and although he did not see his wife he did not call out to her as he felt she was doing her usual chores.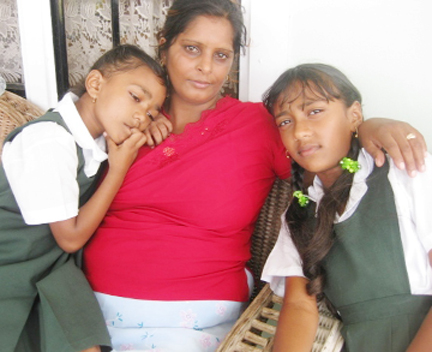 A few minutes later, he said, he called for her but got no response and decided to search the house. It was then that he made the gruesome discovery.
He said when he saw his wife's remains on the floor in his eldest daughter's bedroom he was "devastated."
He said he immediately alerted a man who was passing as well as relatives, neighbours and the police and within minutes many persons rushed to the scene.
Bhoge, a cane farmer and a member of the Private Cane Farmers' Association, who operates an office below his home, said his wife was active in his business.
When Stabroek News arrived at the scene, a large crowd of relatives, friends and curious onlookers had gathered while vehicles lined both sides of the road.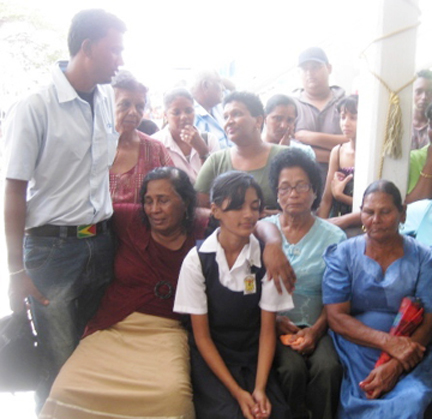 The police were also there conducting investigations as undertakers from Persaud's Funeral Home removed the body amid loud wailing from Nalini Bhoge's 69-year-old mother Vedawattie Tillakdhari.
Tillakdhari said her son-in-law Bhoge had called her around 10 am and asked for her son, 'Vicky.' She enquired what was wrong and he said that they must "come right now; something serious happen."
She said she thought her daughter was sick and did not expect to see her dead, especially not in that manner. In tears the woman lamented that someone had murdered her daughter cold-bloodedly.
Nalini's brother, Ravindranauth 'Vicky' Bisnauth, 39, told this newspaper they hurried to the house and his brother-in-law told them that someone had killed "Nalo". He said when he saw her blood-covered body he was shocked.
According to the dead woman's eldest daughter, Bharti, she left home around 8.30 am to walk to the Line Path Secondary School a short distance away, while her father had left earlier to drop her two younger sisters at the primary school.
She said some of her friends told her they saw a lot of vehicles in front of her home and they heard someone had "cut up my mother". She said she borrowed her teacher's phone and called home and was told to go home immediately.
She said she went to the head teacher's office to ask for permission to go home and found relatives already there waiting for her.
Meanwhile, Tillakdhari recalled that three weeks ago her daughter and her family had gone to a fair in the area and when they returned home their entire house was ransacked and a large sum of money was stolen.
A quantity of jewellery remained intact, but a pouch belonging to Bhoge that contained cash, "bank card and security card" was missing.