Guyana's third consecutive Wedding Expo is scheduled for March 25 to 27, at the Roraima Duke Lodge and is being billed as a great marketing tool.
According to the organisers at yesterday's launch of the event, this year's expo promises to be bigger than last year's.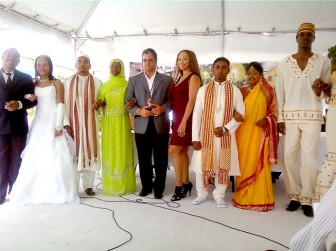 The event, being promoted under the theme 'The Magnificent Beginning,' will include a wide range of exhibitors, showcasing cakes, attire, invitations and floral arrangements, among other attractions.
Captain Gerald Gouveia, Head of the Roraima Group of Companies which is organising the event, said that Guyana is far behind the rest of the Caribbean, noting that is unfortunate that the laws here make it difficult for people to come and get married here. They would first have to spend 10 days before being able to get married, he explained.
Meanwhile, Tomeka Singh, a representative from the Guyana Tourism Authority (GTA), said the Wedding Expo would be the best way to shop, plan, sample, or simply to gather information about weddings. Visiting this event will be the solution to planning a perfect wedding, she said. Singh stated that tour operators can package and promote destination Guyana as the ultimate wedding destination.
Komal Ramnauth, President of the Georgetown Chamber of Commerce (GCCI), said that since the event is being hosted in Georgetown, the GCCI definitely supports it. He said the concept has been well received and the expo regarded as a great source of information for persons planning to get married. Ramnauth urged persons in this industry to come on board and make this year's expo the very best.
Those in attendance were treated to a brief display of wedding attire designed by Sonia Noel.