Women in Business…Mariam Allen: Born for the beauty business
Mariam Allen is not one to hide her light under a bushel. She believes that she was "born for the beauty business" and that her Lime street Beauty Salon has the capacity to transform the ordinary into the extraordinary. Not that she is necessarily making a rash assertion.  She has been in hairdressing and cosmetology sector for twenty four years.
She took to makeup as a child. Dressing up was her way of expressing herself.  Inevitably, she began practicing her skills on a few friends and relatives before launching into the enterprise on her own. Her formal training in cosmetology was done in Trinidad and Tobago. It was there too that she was chosen by Sasha Cosmetics as their representative make-up artist in Guyana. After Trinidad and Tobago she completed a hair dressing course in Grenada.
Mariam recalls that one of the highlights of her career occurred in May 1999, when, working as a Sasha Cosmetics representative she administered the make-up for the then Miss Guyana,Morvina Sobers, at the Miss Universe '99 Pageant held in Trinidad and Tobago.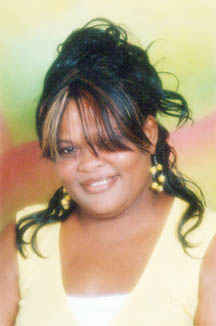 Mariam admits that she runs a thriving trade save and except for the months of August to October. Long, tiring hours used to be an occupational hazard of the trade. These days everything is more ordered.   Customers call and make appointments.
Mariam  reminisces on the days when she employed as many as eight workers. Then, she offered facials,  who executed facials, extensions, hair perming and manicure with exquisite class. Those were the days, she says, when the salon business flourished. These are more challenging days with the competition "from the streets" making the business tougher going. Still, she persists, confident  that her skills can sustain her.
At the age of fifteen her single mother migrated and Mariam was left to fend for herself and two brothers. She had to prepare  meals for her older brother who worked at Guyana Post Office while attending the University of Guyana, along with her younger brother who attended Secondary school.
She did not have much of a childhood since she took on the responsibility of being her brothers' parent, and that this is the core reason why she is a 'workaholic' with no social life and very little hobbies. "I am no fun and I live a boring life" confessed Ms. Allen.
She grew up in Kitty but attained her secondary education at the Lodge Secondary School. She laments that she did not like school, but she endured and completed. Today she is a married mother. She resides in Diamond with her family.
The former sales representative is hopeful of a bright future in an encouraging business environment though she is still awaiting the key the will unlock the door to success.
Most Read This Week