Rice set to top projected tonnage as farmers 'manage challenges'
The local rice industry is set to top the projected 406,000 tonnes for 2012 with Guyana Rice Development Board (GRDB) General Manager Jagnarine Singh disclosing that actual yield for the current year is likely to be closer to 420,000 tonnes.
This year's first crop totalled 211,000 tonnes and Jagnarine says the GRDB anticipates that the second crop will yield 210,000 tonnes. Last year total rice production reached 402,000 tonnes.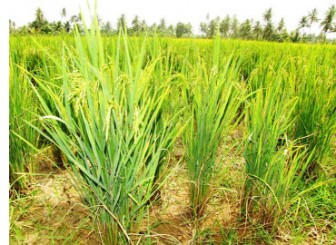 According to Singh, while there had been much talk about the possible effects of climate change on the rice industry, the country's rice farmers had proven to be "smart and resilient" in circumstances of unfavourable weather. Singh said that the farmers "understand the principles of production in the rice industry" and had responded to changes in the weather by instituting carefully thought out regimes of water management as well as efficient post-harvesting dry weather preparation. "It's all about managing the challenges," Singh told Stabroek Business.
Meanwhile, the GRDB General Manager said that while local rice sales to Europe had been reduced, the regional rice market continued to be robust. Singh explained that part of the current challenge associated with marketing rice in Europe had to do with the fact some European markets were reducing the barriers to the importation of rice from other countries and this was resulting in greater competition for rice exported from Guyana.
He said the rice industry, like other sectors in the Guyana economy had to endure its own fair share of loss of labour to the gold industry. Singh said, however, that the GRDB was satisfied that the farmers were adjusting to the challenge. "Our rice farmers are in it for the long haul," he said, adding that while gold remained important to the country's economy, the longer term prognosis for food, both here in Guyana and across the world was more than a little encouraging.
According to Singh, the move by the expatriate company Searice to secure a business interest in the embattled Mahaicony Rice Mills Ltd should bring an end to the protracted row between the rice milling company and local rice farmers over still outstanding sums of money owed to the farmers for paddy supplied. Singh noted that the farmers had to endure "a long period of waiting" and that a solution to the problem appeared to be on the horizon given the fact that the amounts to be paid to Mahaicony Rice Mills as shares in the company will go directly towards liquidating its debts to the farmers.
Meanwhile, the GRDB is talking up the country's new aromatic rice, which Singh says will enhance the image of the local rice industry. He said the new strain of rice which has a distinct aroma is currently in its final "growing and milling" phases and is likely to be on the market in 2013.