Private sector upbeat about seasonal consumer spending
The leaders of two of Guyana's private sector bodies have struck a decidedly upbeat note about the likely volume of retail trading during the next few weeks leading to Christmas.
Chairman of the Private Sector Commission Ron Webster and President of the Guyana Manufac-turers Association Mohindra Chand told Stabroek Business in separate interviews that they anticipated robust trading in the city in the weeks leading to Christmas given what they believed was the enhanced spending power of consumers.
Webster said that with gold prices continually rising and given the hive of activity that continued to obtain in the housing sector he felt there was every reason for the Yuletide season to witness aggressive spending. "Sugar may not be doing that well, but the rice industry is… doing pretty, pretty well," Webster told Stabroek Business.
The PSC Chairman said he felt that most consumers would opt for consumer durables during the holiday period but that spending could depend largely on available consumer credit.
At least one commercial bank has been aggressively advertising loans for seasonal consumer spending while hire purchase retailers have been offering no-deposit deals.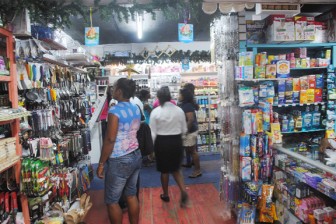 Chand said the GMSA also anticipated heavy consumer spending during the holiday period. He said the changing architecture of the city, including the erection of new shopping facilities, was likely to add a further element of excitement to shopping this year and he predicted that greater numbers of people were likely to find their way into the city to shop.
Chand felt though that the seasonal shopping could pose "security challenges" since it was likely that the criminal element would also be paying attention to the presence of greater numbers of shoppers. "Our concerns have to do with issues of security and likely traffic congestion during what we believe will be a period of heavy shopping," Chand told Stabroek Business, calling for increased police and traffic ranks on the streets in the period ahead.
Meanwhile, Chand said that while he was aware that the Christmas period usually generated higher levels of importation, the GMSA had embarked on a 'Made In Guyana' initiative, designed to encourage consumers to pay greater attention to locally produced goods. Asked for the GMSA's views on the influx of Chinese traders and the impact of cheap Chinese imports on some categories of locally produced goods, Chand said that while he was not seeking to target the Chinese directly, the GMSA would be concerned if Guyanese consumers felt they were being offered inferior imported goods. He said that would be an issue which the GMSA would take up.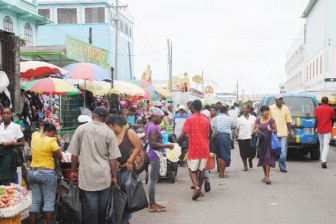 Chand told Stabroek Business that the GMSA's 2013 programme was likely to include discussions with the Guyana National Bureau of Standards (GNBS) on the issue of quality and standards of imports, though he stressed that the engagement would not seek to target Chinese imports directly.