Roraima to create ocean front resort at Wakenaam
– multi-million-dollar facility to be completed in 2013
A multi-million-dollar project that will culminate in the creation of Guyana's first-ever ocean-front resort is to be undertaken by Roraima Airways Inc, the company's Chief Executive Officer Captain Gerry Gouveia told Stabroek Business in an interview on Tuesday.
"We didn't announce this as one of our suite of projects to be undertaken over the next five years but I can tell you that work will begin shortlyon the ation of a resort on the island of Wakenaam and that we expect to have the resort completed by the end of next year," he said.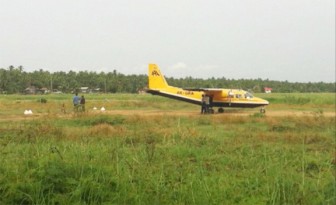 Gouveia told Stabroek Business that the decision to create the Wakenaam resort had been influenced by the completion of the runway on the island situated in the Essequibo River. "When consideration is given to the fact that it takes about 12 minutes to reach Wakenaam by air from either Ogle or Timehri, we are treating the Wakenaam resort as another viable tourism option for visitors to Guyana. Interestingly, it also provides a kind of second leg for visits to the Kaieteur Falls. Visitors to the falls can be flown to the resort in a relatively short time where they can enjoy the rest of the day."
And according to Gouveia, the move to establish a resort at Wakenaam is being treated by Roraima as part of a broader initiative to render its overall operations more efficient by "creating work for our planes as our fleet expands and putting guests into our hotels". The facility will be equipped with 25 cabins.
Roraima Airways Inc already operates the Arrow Point Resort and Gouveia told Stabroek Business that the Wakenaam Resort would we "different" in the sense that it would offer visitors "a greater feeling of luxury". He explained that apart from offering accommodation that would be overlooking the ocean the Wakenaam Resort will offer horseback riding, kayaking and agro tourism.
Meanwhile, Gouveia said work was well underway on the multi-faceted enhancement of the Roraima Duke Lodge, a one-time state reception facility acquired by the company a few years ago. Gouveia said the planned installation of a new industrial kitchen at the Duke Lodge was scheduled to be completed "very shortly", while the construction of a reception hall and the addition of 30 rooms to the recently acquired annexe would be completed next year.
Most Read This Week