Suriname Airways eyes Georgetown-NY flights by June 2013
– manager points to 'reasonable' Miami market share
Suriname Airways could enter the Georgetown –New York market as early as the first half of 2013, once the company completes its planned January acquisition of an additional 737 aircraft to the two currently serving Guyana and the rest of the Caribbean, Guyana Station Manager Rudi Westerborg said.
In an interview with Stabroek Business on Wednesday, Westerborg said that having commenced its service between Georgetown and Miami in April this year the company was "particularly pleased" with what it had accomplished. He said it was now keen to consolidate its involvement in the local and regional markets.
Asked to estimate the size of its share of the Georgetown-Miami market, Westerborg would only say that he believed Suriname Airways had secured "a reasonable share" of the market and it had "big plans to enhance its service to Guyana" in the future.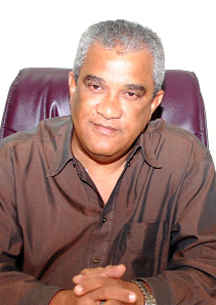 Westerborg said too that the company was "more than a little satisfied" with the support Suriname Airways had received from Guyana. "Of course we are in the market to do business, but beyond that we are aiming to provide a quality service to our Guyanese customers," Westerborg said.
The Guyana Station Manager told Stabroek Business that Suriname Airways has had to confront and cope with the challenges of an increasingly costly international aviation industry, including "continually rising fuel costs". More than that, Westerborg said, "the security costs that have accrued to the aviation industry in the wake of 9/11, have increased operating costs to airlines by around 800 per cent. Ironically, those increases have coincided with calls from consumers for cheaper fares."
Flights to Toronto could also be on the cards, against the backdrop of what Westerborg said were plans by Suriname Airways to increase its services to Guyana.
Meanwhile, the Station Manager said he was particularly pleased over the opportunities for intra-hemispheric travel among Guyana, Brazil and Suriname that had resulted from the inauguration of Suriname Airways flights between Paramaribo and Georgetown. He said that apart from the smaller airline service to Ogle, Suriname Airways provided an option for both Surinamese visitors to Guyana as well as Brazilian miners commuting between Brazil and Guyana.
"It is not as though we are where we want to be. Sometimes there are problems including delays but we remain conscious of the importance of our obligation," Westerborg said.