Sport: Darren Sammy: Between a rock and a hard place
For as long as he remains captain of the West Indies team Darren Sammy's credentials as a cricketer deserving of a permanent place in the Caribbean side, far less the distinction of being its leader, will probably always be in question. It is a reality with which the 29  year-old St. Lucian all rounder must live unless of course he so impresses with bat or ball or both while causing his leadership to bring about a radical change in the fortunes of West Indies cricket that his own place in the side ceases to be an issue.
Since his appointment Sammy appears to have learnt to live with the burden of constantly being reminded that he does not fit the bill as West Indies captain. If there has been no momentous transformation in his personal performance – the standout accomplishment of his career being his first test century this year against England –  he has, it appears, taken the approach of seeking to subsume his own on-field performance beneath what he says is the greater priority of the team's success. He talks incessantly about the importance of the team winning, causing it to seem sometimes as though good results for the team might grant him the breathing space he needs to work on his own game.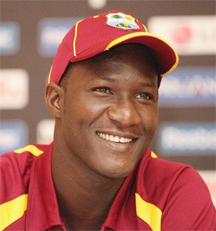 If it may well be that Darren Sammy will probably continue to be seen as the odd man out – so to speak – as the West Indies continues to search desperately for the winning eleven going into every game, the role of the hard-working St. Lucian all-rounder in helping Caribbean cricket through a period of challenge and stress should not be underestimated. Recall that Sammy was appointed Captain of the West Indies team at a juncture when the travails of the regional game included the dilemma of just who was the best person to lead the demoralized and directionless Caribbean side.
Recall too that Sammy came to the leadership without the slightest trace of grandiose illusions. Far from being a fixture on the team he was on the fringe and he knew it. More than that he had not been perceived as a cricketer with anything remotely resembling exceptional leadership skills; so that Sammy's appointment as captain of the West Indies team was really a matter of the Board making do in a bad situation; and Sammy must have known that. Certainly, he made no pretensions to being the answer to the team's leadership problems.
Sammy's appointment too was a radical break with tradition. In the past it had been a question of seniority or a combination of seniority and playing prowess though when one considers the likes of Sarwan, Chanderpaul and, most recently, Chris Gayle, it is clear that that formula has not worked well for the West Indies in recent times.  In that context Sammy's appointment could not have come as a complete shock though there are those who might argue that his own modest record as an international cricketer ought to have ruled him out. The problem here, of course, is that while there has been a preoccupation with singling out Sammy as the wrong man for the job, no one has been able to point to a clear option to the St. Lucian.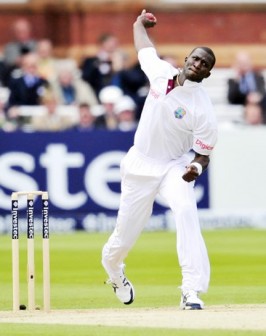 Under Sammy the Board appears to have subsumed the notion of individual 'star players' beneath a culture of the collective, of a group of players all working for each other and for the good of the team. That too has been a good thing for Sammy since it removes the pressure of having to continually 'prove himself' amidst a galaxy of 'stars.' Perhaps it is this that accounted for his ill-conceived but perhaps altogether understandable remark about the new work ethic of the Caribbean side on the eve of Chris Gayle's return to the team – from a highly successful IPL season in India – earlier this year.
His appointment was not only a surprise to the regional cricketing community but a sharp departure from a tradition of West Indian cricket captaincy that had produced leaders of the calibre of Clive Lloyd, Viv Richards and Brian Lara, all accomplished players in their own right. Sammy had been appointed captain in circumstances where the issue of whether or not he was deserving of a spot on the team, in the first place, was an issue; more than that, as far as anyone knew, apart from what was felt to be his strictly limited cricketing skills, Sammy possessed no special leadership skills that might cause one to assume that under his captaincy their might be a change in the team's fortunes.
So that Darren Sammy the captain must surely have assumed the reins of leadership under no illusions about the situation in which he had found himself. It was as much a matter of proving himself worthy of being a member of the West Indies team as it was that of demonstrating his leadership skills. It must have been – to say the least – a daunting task to find himself saddled with the responsibility of being captain of a team to which a great many people, including, arguably, some of those who were now required to serve under him felt he did not belong; and it would have been a good deal worse to hear the views of the various cricket commentators and analysts from the Caribbean and elsewhere who felt – and said so – that Sammy's captaincy epitomized the state of Caribbean cricket.
If – at least up until now there has been no marked improvement in the condition of West Indies cricket, if we are still to recapture that long lost art of winning, at least we appear to have been able to reduce the rate of decline; and even if Darren Sammy's personal cricketing prowess has taken no dramatic turn for the better during the period of his captaincy, at least he has been able to fill the gap.
If Sammy must surely be sufficiently mature and sufficiently understanding of the culture of Caribbean cricket to understand that he may well have to live out the remainder of his career as captain under the critical glare of a host of cricket fans in the region, he must find it a good deal more difficult to cope with the periodic criticisms of the so-called cricketing experts – men like Michael Holding – who are never inclined to conceal the hard edge of their criticism of the St. Lucian. What appears to spare Sammy at least some of the agony of having to endure such criticism are, first, the fact, that he appears to be under no illusions about his own limitations and, secondly, that he appears determined "to do the best I can for the West Indies." Sammy, perhaps, knows even now that he is unlikely to be a favoured candidate for West Indies cricket's Hall of Fame though he must surely want to be remembered at least as someone who was in the right place to make the kind of contribution which West Indies Cricket needed at the right time.