Miner threatened to kill sister
-court hears
A miner was yesterday charged with threatening to kill his sister over a pair of long boots that he claimed was destroyed by his brother-in-law.
It was alleged that Krishnadutt Jagmohan, 34, whose address was given as East La Penitence Night Shelter, threatened and verbally abused his sister Rishma Jagmohan on November 3, thereby occasioning a breach of the peace.
Jagmohan denied the charges of using threatening language and using abusive language after it was read before Magistrate Sueanna Lovell at the Georgetown Magistrates' Court.
Prosecutor Alexis David-Hossanah related that Jagmohan told his sister, "I gon done yah f***ing dance," which she reported to the East La Penitence Police Station. He was subsequently arrested and charged.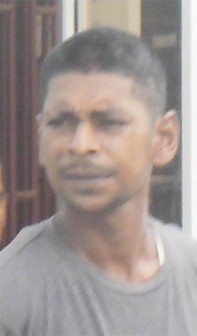 When given the opportunity to speak, Jagmohan denied the charge, telling the court that he and his brother-in-law had the exchange of words.
He added: "Ah buy a boot for $12,000 and my sister husband cut it. I didn't threaten her. It was me and me brother-in-law."
Magistrate Lovell then asked if he had any previous or pending matters before the court.
In response, Jagmohan said that he had previously been charged with attempted murder but the case was dismissed against him due to lack of evidence.
The prosecution had no objections to bail, which was set at $10,000 for the threatening language charge and $8,000 for the abusive language charge.
The case was adjourned until November 14, when it will be called in Court 10.