Opposition has no authority to judge me -Rohee
A short while after he was shouted down and prevented from speaking in the National Assembly, Minister of Home Affairs Clement Rohee yesterday declared that the opposition is not in a position to assess his ability to function as security minister.
Surrounded by many of his Cabinet colleagues in the Committee Room in the bottom flat of the Public Buildings, Rohee also said he was cleared of all the allegations made against him.
"Insofar as the charge that is being made about my ability to function as Minister of Home Affairs, I doubt whether either Mr [David] Granger or Mr [Khemraj] Ramjattan are in a position to assess that.
They are not members of the Cabinet, they are not in the government and it is only my colleagues who work and sit with me who are in the best position to judge that and then at the end of every five years, the people can judge that…," the minister declared.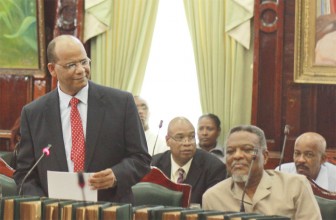 Rohee charged that he had been cleared of all the allegations that have been made against him to discredit him and he is very optimistic that when the report of the Linden Commission of Inquiry is published, he would again be cleared.
In July, the opposition used its one-seat majority to pass a no-confidence motion calling for the removal of the minister.
Rohee yesterday said he thinks that there is a mistaken belief on the part of opposition leader Granger and AFC leader Ramjattan that he was a member of their lists for last year's elections. "I am on the PPP/C's list of persons, so any decision with respect to my future in Parliament or in my capacity as Minister of Home Affairs rests with the leader of that list," he said.
He added that he has made himself available to serve the people of Guyana and "that is precisely what I am doing."
"Like my colleague in Trinidad & Tobago [Minister of National Security] Jack Warner I wish to conclude by saying…let us continue on the road to 2016, when 2016 comes the people of Guyana would decide on another new dispensation," Rohee added.
The minister also said he was humbled by the support of his Cabinet colleagues, who started to chant "Rohee must stay." He added that without exception, they have been with him all the time. "I want to say that I appreciate that very, very much," he said. The minister certainly had the confidence of his colleague, Member of Parliament Neil Kumar, who escorted him down to the room where the press conference was held, shouting "Rohee must stay, Rohee is the best minister and Rohee must stay as minister."
An animated Kumar added, "Rohee, he is the PPP/C minister, he is the people's minister."