Republic Bank honours RightStart account holders for CSEC success
Republic Bank (Guyana) Limited last Thursday rewarded the top five RightStart Account Holders who excelled at the Caribbean Secondary Education Certifi-cate (CSEC) examinations.
Rosanna Bisnauth, Benedict Sukra, Kashif Khan, Kerri Yan and Karishma Narain were congratulated for their exemplary performance at this year's CSEC examination by the bank's management and were each awarded a RightStart Gift Certificate valued $20,000 and special Republic Right Start Gifts.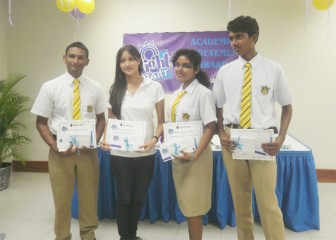 Christine McGowan, the bank's Legal Services Manager, noted that the annual achievement awards are a way of supporting customers and the development of the Guyanese society. The bank firmly encourages the importance of awarding distinction in academics, believing that the youths are the future of a nation, McGowan said, while congratulating the students.  "You are definitely the promise of a brighter future for Guyana," she told them, adding that the bank will continue to support them through a Career builder Account.
The awardees expressed their sincere gratitude and appreciation to the bank. Khan was overwhelmed. He has been a customer at Republic bank for 17 years and was grateful for its appreciation and the fact that they acknowledged his success. He was also honoured by Republic Bank in 2007 for his exceptional performance at the National Grade Six Examination.