(Video) Waves put damper on seawall vendors
Waves reaching over nine feet in height disrupted seawall vendors who turned out early yesterday afternoon to set up their stalls along the route for the annual Diwali motorcade.
When Stabroek News arrived at the Kitty seawall, many stall holders were seen putting up tents and offloading stocks to be sold at yesterday's event.
Some, however, were concerned, saying that they made many attempts to set up the stalls but because of the constant waves crashing over the sea defence, a lot of time was wasted and some of their goods were damaged after being splashed by the salt water.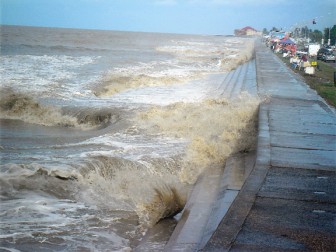 However, others said the waves did not affect them and they expected them to subside by nightfall.
Stall holder James Percival told this newspaper that the waves started to rise to a noticeable height about noon yesterday.
"People start moving them thing, thinking that the waves dem ain't hitting a certain section, but after they see this ting wetting all over, they just decide fa stay weh they deh, rather than lose the spot wah da wait whole morning for," Percival noted.
High tides have been forecast over the next few days.
Video