Bel Air heist accused slapped with another death threat charge
Hardat Kumar, one of the accused on trial for the July 12, 2011 $7M Bel Air heist, was yesterday faced with a second charge of making a death threat.
Just over a week after he was charged with threatening to kill the family of a witness, Kumar was arraigned again before Chief Magistrate Priya Sewnarine-Beharry.
It is alleged that on November 7, at the Georgetown Magistrates' Court, Kumar used threatening language to Annie Ramsood, the virtual complainant in the Bel Air robbery and who is also his cousin.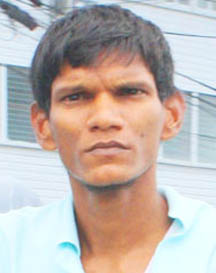 Kumar is on trial along with Ramsood's mother Chandraradha Rampersaud, Jermaine Mitchell, Aubrey Simon, and Rayon Jones over the $7M robbery.
Kumar yesterday denied knowledge of making any threats to Ramsood.
No further details about the charge were presented to the court.
Bail was refused and Kumar was remanded, due to the fact that he has another pending charge for an offence of a similar nature.
Kumar was last week, remanded to prison on the charge that he attempted to obstruct the course of justice, by threatening to kill the sister of Rabindranauth Seemangal, if he testified against him and his co-accused.
Kumar denied that charge, stating that the call he made to Seemangal's sister was just a friendly one to speak to her concerning cash to be given to Seemangal's wife.