Kitty man dies after crashing into road median
A man died after his car crashed into the median of the Agricola, East Bank Demerara Public Road on Monday night.
Rishi Baksh, 38, of Lot 114 Thomas Street, Kitty was pronounced dead on arrival at the Georgetown Public Hospital.
Baksh appeared to have died on the spot after the accident, which police said occurred at about 10:30pm after he lost control of the vehicle.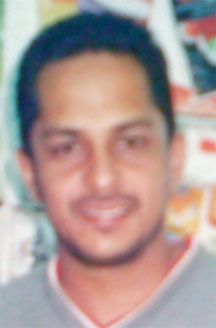 Baksh was an electrician and at the time of the accident he was returning home after work in motor car PGG 1651.
Police said that their investigations have so far revealed that Baksh was driving north along the eastern side of the road when he lost control and crashed into the concrete median.
The dead man's wife, Shemeeza, was inconsolable when this newspaper visited his home yesterday. His sister said that the family was unaware of the accident until a call was received from a doctor at the hospital, who informed family members of Baksh's death.
His sister stated that his wife spoke to him while he was on his way home and shortly after that the doctor called. She said that they were told that Baksh lost control of the vehicle and slammed into the median of the road. She also said that he had complained of his car having mechanical problems and was about to fix it prior to the accident.
A post-mortem examination will be done today to determine the cause of death. Meanwhile, the police are investigating the matter.
Baksh was a father of two.