Bonasika murder victim for burial today
Mahendra Narine, the seaman who was hacked to death at Bonasika Creek last Thursday during an attack by his girlfriend's ex-partner, will be laid to rest today at the Lancaster Cemetery.
Indranie Sookhoo, one of Narine's aunts, told Stabroek News that he would be buried after a funeral service that will be held at his Mahaica home.
Narine, 22, of Unity, Mahaica was pronounced dead on arrival at the Leonora Hospital after the attack that was allegedly carried out by Davindra Persaud. Narine was chopped about his body with a cutlass.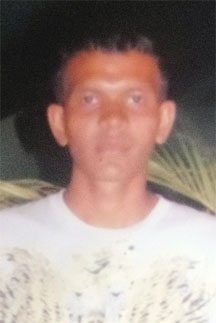 A post-mortem examination on Narine's body, conducted by government pathologist Dr Nehaul Singh, affirmed that Narine died from multiple incised wounds.
Persaud is in police custody after turning himself over to the police. Stabroek News was told that he would likely face charges in a matter of days.
The woman that Narine was with at the time, Joy Meyers, was also chopped about the body in the attack and had her left hand severed.
Meyers is a patient at the Georgetown Public Hospital's Female Surgical Unit, where she is recovering.