Security guard charged with stealing woman's purse
Security guard Neal Ramsarran was yesterday charged over the theft of a woman's purse.
Ramsarran, 48, of Lot 50 Sheriff Street, Campbellville, denied the simple larceny charge when he appeared at the Georgetown Magistrates' Court.
The allegation against him is that on November 29, in Georgetown, he stole a purse with a gold necklace and an unknown amount of cash, which belonged to Sarafina Brooks.
According to Prosecutor Seon Blackman, Brooks had parked her car and was waiting for a technician from Ramsarran's place of work on Sheriff Street. Brooks, he added, then placed her purse on the car and looked away for a minute, after which she noticed Ramsarran moving away from the vehicle.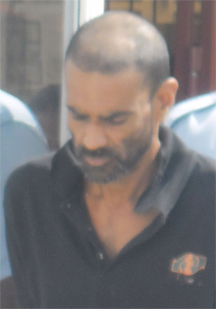 Blackman further stated that a couple of minutes later she realized that her purse had gone missing. She later reported the matter to the Prashad Nagar Police Outpost and police subsequently arrested Ramsarran.
Although the prosecution objected to Ramsarran being given his pre-trial liberty, Chief Magistrate Priya Sewnarine-Beharry overruled the objection and set bail at $200,000. The case was adjourned until December 18, when it is to be called for reports and fixtures.
Most Read This Week