Deal for playground at Giftland mall signed
MCG Investments Inc yesterday announced that it had signed a licensing Agreement with SBA Entertainment Inc for a children's playground and other recreational activity at the Giftland Mall.
A statement said that the leasing of space at the Giftland Mall, Pattensen, East Coast Demerara to the Coral Springs, Florida-based SBA will see bungee jumping, rock climbing and a kids playground within a 4,400 square feet facility.
Company representative, Shanker Persaud was quoted in the statement as saying that "all Guyanese need more avenues for entertainment and this venture will set the benchmark for the present and future."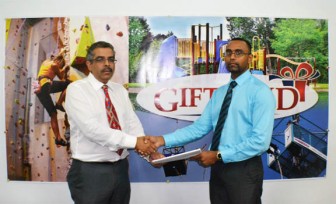 The release said that the facilities will be state-of-the-art in technology and design. They will also be tested to ISO and ROCH certification.
All equipment will be rigorously tested and sanitized, daily, in
accordance with both Companies' health and safety policies.
CEO of Giftland OfficeMax, Ian Ramdeo said "The Giftland Mall welcomes
SBA Entertainment on board and is excited for this partnership to provide
to the Guyanese public, especially the often-forgotten kids, a much needed
facility for clean family entertainment."
This is the second such deal signed in recent weeks. On November 30, an agreement was signed with Camex Inc for the establishment the Church's, Mario's and Quiznos restaurants at the mall.
The statement from MCG Investments said that Giftland Mall will also feature separate video arcades for preteens and teenagers, together with a 12 Lane Bowling Alley, 8 State of the Art 3D Cinemas and over 23 eating places.
The mall investment is said to be worth $4B and is expected to open next year.