President visited GPHC children's ward on Xmas Day
President Donald Ramotar, accompanied by First Lady Deolatchmee Ramotar, Health Minister Dr Bheri Ramsaran and other officials visited the Paediatric Ward of the Georgetown Public Hospital Corporation on Christmas Day.
The Government Information Agency said that the   President and his wife offered gifts and words of comfort to the children who are being treated for various ailments.
The Head of State said he was happy to be able to visit the children who are  ill and spending  Christmas away from their families.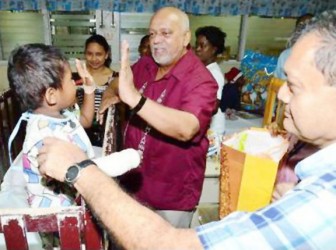 Twenty -four children are currently hospitalised at the GPHC.
Most Read This Week