Bishops' High takes early lead in swimming c/ships
By Tamica Garnett
Bishops' High School, led by Olympian Britany van Lange, took an early lead after the completion of the North Georgetown Zone District #11 Inter Schools Championships which commenced on Monday with the swimming segment at the Colgrain Pool, Camp Street.
Boasting a throng of seasoned national swimmers, Bishops' High School continued its stranglehold on the swimming division leading the secondary schools with 167 points.
Queen's College trails 20 points behind their main rivals on 147 points while Guyana Technical Institute accrued 106 points to end in third place after the first day of the four-part competition.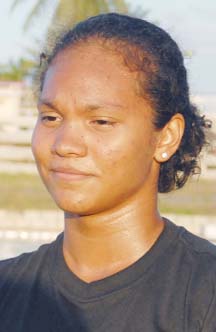 St Rose's are on 95 points while the Business School is a point behind on 94.
Marian Academy,  88, St. Stanislaus College, 48, Richard Ishmael Secondary, 44, Christ Church Secondary, 41 and School of the Nations, 16 are the other schools in the competition. In the Primary School competition, St. Margaret's Primary school, leads with 50 points while North Georgetown Primary and Winfer Gardens Primary follow with 25 and 20 points respectively.
Rivalry continued with cycling yesterday while the field events will commence today at the YMCA ground, Thomas Lands, from 10am.
The much anticipated inter-zone track segment will begin next Monday starting off with Zone 1 while competition in zone 2 will take place the following day.
The North Georgetown District (#11) is one of three districts from Georgetown to host events in the coming weeks as the National Schools Championships draws nigh.
The National Schools Championships will take place at the Guyana National Stadium, Providence from November 19-23. The swimming aspect of the championships will be held at the National Aquatic Centre, Liliendaal.