Guyana swamped by Canada 10-0
Guyana women hockey players went down to tournament favourites Canada 10-0 suffering their second defeat in as many days at round one in the  World League at the Natonal Hockey Centre in Tarcarigua in Trinidad. The Canadians led 3-0 at half time. No individual scorers were available.
The Guyana had suffered a 5-0 defeat against CAC champion and host Trinidad and Tobago in their opening match Sunday and have now conceded 15 goals in two games.
Canada have now scored 22 goals in their two encounter and look set to come out winners of the tournament with the only threats being Trinidad and Tobago and Uraguay.
Guyana's  coach Philip Fernandes  said he was pleased with the team's performance against the Trinidadians.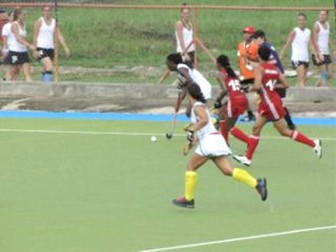 He said four of the five  goals came from set  plays by  their opponents.
Fernandes said the team held its own for the first ten minutes of play before the Trinidadians scored their first goal in comments after Sunday's encounter..
The Guyanese now play Uruguay in their next match tomorrow at 11;00 hours before meeting with Barbados on Thursday and Venezuela on Saturday.
Guyana went down to Uruguay when they last met in the final of the Pan American Challenge in Brazil two years ago.
They face an uphill task to be among the top three teams advancing  to the second round of the World Cup qualification series.
The six teams are competing in a round robin tournament leading up to the World Cup in 2014 in Netherlands.