Jaguars look to end campaign on positive note
By Emmerson Campbell
in Grenada
Despite crashing out of this year's Caribbean Football Union (CFU) Cup tournament, Guyana's Golden Jaguars will look to go out on a positive note when they tackle Group Six foe, French Guiana, tonight at the National Stadium here in St George's.
The senior men's national team will be playing for pride as they have no chance of qualifying for next month's finals in Antigua after they lost to the other Group Six teams, Haiti, one-nil on Wednesday and two-one to the host on Friday.
Coach Jamaal Shabazz intimated that despite being out of the competition, the locals will be looking "to go out with a bang" while giving some younger players some playing time.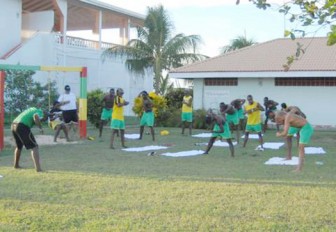 "We have some young players like Pernell Shultz who have been doing well at the youth level and we think we are going to give one or two of the young players an opportunity to get some playing time said Shabazz".
"In doing so though we have to keep the integrity of the competition and not go out with a team that will be slaughtered, so we still want to go out and fight hard and go out with a bang".
The team already short handed by the absence of Gregory Richardson, Ronson Williams, Dwight Peters, Anthony Abrams and Konata Mannings through money related issues, will further be depleted because of bookings to Captain Chris Nurse and the unavailability of Vurlon Mills because of an important club engagement in Trinidad.
In their previous Group Six games, French Guiana drew with Grenada one-all on Wednesday and defeated Haiti, one-nil on Friday
Kick off time is 18:00hrs at the National Stadium.
The points standings heading into today's games are as follows Grenada four points, French Guiana four points and Haiti three points. Guyana is in the cellar without a point.
The top two teams in this group will qualify for the final.
The Golden Jaguars starting 11 will most likely be made up of Derrick Carter (goalkeeper), Nick Millington, Treyon Bobb, Charles Pollard, Jake Newton, Walter Moore, Daniel Wilson, Shawn Beveney, Dwain Jacobs, Jamaal Smith and Kester Jacobs.