Lyle, Green and Barratt champs on opening night of GABA intermediate championship
By Iva Wharton
Darius Lyle, Tefon Green and Mellshion Barratt walked away champions when the first three finals of the Guyana Amateur Boxing Association National Intermediate Championship commenced Friday night at the National Gymnasium.
In an Young Achievers affairs, Lyle clashed with O'Neil Marcus who proved to be no match for him in the 65-69 pounds category.
In the 95-99 pound category, Tefon Green defeated his gymmate Orin Bancroft. Both boxers represented Harpy Eagles Boxing Gym.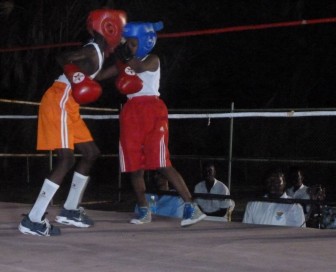 Shaka Moore of the Essequibo Boxing Gym defeated Mellshion Bharatt of the Forgotten Youth Foundation (FYF) in the 100-108 pound category.
Moore, in his first fight of the night, defeated Totaram Latchminarine of the Pocket Rocket Boxing Gym, New Amsterdam. From the time the bell rang, Moore took Latchminarine to task with the referee having to stop the contest as Latchminarine proved no match.
Other winners were Melrick Walcott of Essequibo who defeated Tyrese James of FYF and Quincy Wright also of Essequibo who defeated Jamie Kellman of Young Achievers while Teo Bunbury of FYF defeated Winston Peters of Young Achievers.
Peters' corner threw in the towel after Peters failed to stand up following a barrage of punches from Bunbury.
Shemar Bunbury, also of FYF defeated Ancel Wolfe of Harpy Eagles Boxing gym while Anthony Camacho retired in the first minute of the bout after receiving several punches to the face from Tyrone Lashley of the Rose Hall Jammers.
Ramon Bunbury of FYF was declared the winner over Antino Miguel of Young Achievers who put up a strong fight in the first round but could not maintain it.
In a Harpy Eagles affair, Keiron Junior defeated Royan Williams. This bout was followed by two all GDF affairs which saw Mark Marshall and Quincy Harvey defeating Jemal Mona and Jancyah Cummings respectively in the bantamweight and junior welterweight categories.
Most Read This Week