North Georgetown swimmers aiming for seven straight
GTU National Schools C/ships…
District 11 North Georgetown is focused on extending its impressive win streak in the swimming championships of the Guyana Teacher Union (GTU) National Schools Championship by capturing their seventh consecutive title tomorrow at the National Aquatic Centre at Pattensen.
The 2012 edition of the GTU 'Nationals' begins tomorrow with action in the track and field, swimming and cycling competitions. North Georgetown has won the overall title three times in the last five years, hugely because of the dominance of their swimmers according to their coordinator of the swim team Marlon Laing.
North narrowly surrendered the title last year to Upper Demerara District 10 but they are hoping to regain it this year according to team manager Mark Willis. North hopes to begin its redemption mission on an emphatic note by capturing their seventh straight title in the swimming championships. According to Laing, accomplishing that feat will serve as an additional motivator for the other athletes in their respective events.  The North Georgetown officials were very confident in the ability of their swimmers to capture the title once again this year considering that their team is packed with national swimmers. Once again, North's swim team is enhanced with the inclusion of national record holder and Olympian Britany Van Lange. The 15-year-old Bishops' High School student has been on a record breaking spree at this event over the years and has managed to keep an undefeated record.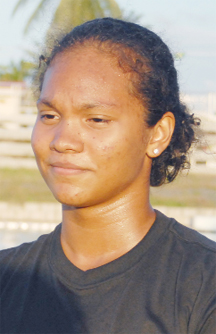 Apart from Van Lange, North's swim team also includes Goodwill Games medallist Soroya Simmons of Marian Academy, Onika George and Accalia Khan from Bishops' High School, Hannibal Gaskin and Shane Baksh from Queen's College and  Omari Dunn and Joseph Seguina from the Government Technical Institute (GTI).
According to Laing, the only issue with the North Georgetown swim team was that they had an abundance of swimmers in one age category. Laing said that they used the times of the swimmers and moved the stronger swimmers up to the older age categories. Nevertheless, Laing said that he is confident that the swimmers on his team will come out on top as they have proven on several occasions to be the best in the country.