PMTC makes it to final four
Tradewind Tankers International Invitational Volleyball Tournament …
The spirited young squad from the Port Mourant Training College (PMTC) reached the final four of the Tradewind Tankers International Invitational Volleyball tournament yesterday at the National Gymnasium.
The PMTC team was the only local club to make it that deep in the tournament and was scheduled to battle their international counterparts for the Inaugural Tradewind Tankers International Invitational Championship trophy. Apart from PMTC, Brazilian club Roraima, Suriname's Lzecks and Trinidad and Tobago's Big South East Port-of-Spain (BIG SEPOS) also advanced to the final four of the tournament.
PMTC finished the round robin matches with a 50 percent win/loss ratio, after winning three of their six matches, squeezing past local powerhouses Young Achievers 2-1 on Saturday.
PMTC stole the first set 19-13 before the Young Achievers battled their way back into the match and won the second set 19-16. The teams were neck-and-neck in the final set but PMTC manage to push ahead during the final minute of the 10-minute set.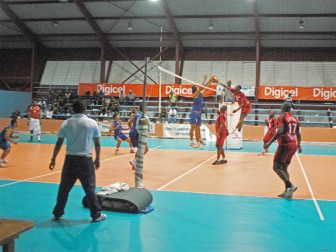 Young Achievers seasoned campaigner Randy Adams had a chance to even the score during the final few seconds of the match but with too much steam on his spike, it raced out of bounds just as time expired, to give PMTC the 18-16 win in the decider.
BIG SEPOS on the other hand, did not need a dramatic win to make the final four as they finished the round robin format with a perfect 'six-from-six' record. BIG SEPOS coach Gideon Dickson had told Stabroek Sport on Saturday that his team was building momentum as the tournament progresses and that is exactly what they did on day two of the tournament.
After staging a remarkable come-from-behind victory (2-1) against Suriname's Lzecks on Saturday afternoon, Big SEPOS returned later that evening to stun Brazil's Roraima volleyball club 2-0 (15-14, 16-14).
The Guyana junior girls' team was unsuccessful in their first match against Brazil's juniors from the Roraima club on Saturday. The Guyana junior girls, who recently competed at the Inter Guiana Goodwill Games fell 17-25, 26-24, 15-25, 10-25. Yesterday, the girls played with a compilation of juniors and seniors and once again suffered defeat to their Brazilian counterparts. In their first match the junior boys team lost to Brazil 3-0 (25-21, 25-19, 22-16).
The semi-final and final round of the tournament was scheduled to take place late last night and the results will those matches will be featured in tomorrow's edition.