Six Linden teams for Banks Beer/GFA end-of-year tournament
Six football clubs affiliated to the Upper Demerara Football Sub Association (UDFSA) will participate in the Georgetown Football Association (GFA) Banks Beer end of year football extravaganza.
This disclosure was made by GFA president Vernon Burnett and Answatt Barrett of Eagles United at the Sleep Inn Hotel on the completion of the GFA's General Council's meeting on Saturday.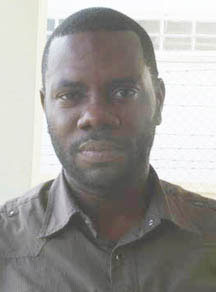 Blue Berry Hill United, Botofago, Net Rockers, Eagles United, Vasco and Kawkwani Strikers are the clubs identified.
There is the possibility that a seventh club, Kumaka Strikers, could also compete in the tournament but this publication understands that at the moment the club is not affiliated to the UDFSA, due to non payment of dues.
Representatives of Net Rockers, Blue Berry Hill United and Eagles United attended Saturday's General Council's meeting.
Confirmation of the clubs' participation in the GFA tournament comes some weeks after the GFA stated that it was negotiating with the UDFSA and its affiliate clubs
Two representative of Netrockers Club, Jermaine Figueira and another official who requested to remain anonymous told Stabroek Sport that their participation in the competition was not as a result of persuasion, but with the opportunity of being involved in football after a long period of inactivity.
"We are not interested in the politics between GFA and GFF but are interested in football. Our thing is that we want the opportunity to participate in football," the representatives declared.
"Football is not playing in the region and because of that strong players are gravitating to the teams that are playing football on a regular basis and those two teams are playing in the national league.
"It's robbing us of the opportunity to develop the clubs," the added.
Figueira said that it was known that Milerock and Amelia's Ward United would have competed in the Kashif and Shanghai tournament given their affiliation to the GFF but asked what about the other teams that are not affiliated to the GFF.
Netrockers, they said, was not one of the teams contacted by the Kashif and Shanghai Organisation and would not have otherwise been playing football had it not been for the invitation of the Banks Beer/GFA to play in their end-of-year tournament.
Figueira said only few clubs are invited to play in the  Kashif and Shanghai  tournament with the majority of the teams being left out of any organized competition which has been hurting the clubs' development.
The two said too that they supported the decision of their president Sharma Solomon to remain neutral in the dispute between the GFF and the GFA while maintaining the integrity of football in Upper Demerara.