Giddings stunned by Kaitan in Road Race
-late surging Straker captures female edition of the race
District Nine's Samuel Kaitan stunned race favourite Nathaniel Giddings to win the 10km road race yesterday morning  as the Guyana Teacher Union (GTU)/Ministry of Education/Digicel National Schools Track and Field Championships got underway.
District 10's Giddings, who is the South American 10km Classic two-time reigning junior champion, had led for the first three kilometres (3km) before Kaitan pulled up alongside him and waged a battle for the lead which lasted for the next 4km. District 11's Devaun Barrington placed third while Grivon Grant (37:46.2) of District five placed fourth.
Kaitan, who placed 39th overall at the South American (SA) 10km last month, clocked 35 minutes, 30 seconds (35:30) to win yesterday's race. Giddings had finished the SA 10km fifth overall and was the second Guyanese finisher behind Cleveland Forde. Yesterday's race utilised the same course but Giddings (36:16s) finished almost two minutes slower than he had in last month's SA 10km (34:33).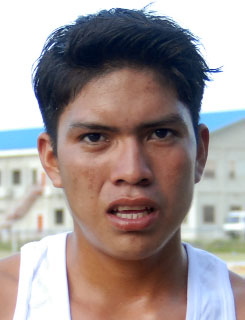 Speaking with Stabroek Sport following the event, Giddings' sportsmanship was commendable as he stated that Kaitan ran a superb race to prevent him from capturing his maiden national schools road race title.
Kaitan said that his performance at the SA 10km was uncharacteristic due to the fact that he was extremely tired from travelling to Georgetown and he did not have a chance to rest prior to the event last month. Apart from the 10km road race, Kaitan is also expected to compete in the boys open 5000m and the boys Under 20 1500m and 800m races.
In the girls' edition of the race, two-time CARIFTA gold medallist Jevina Straker of District 11 prevailed in 44:20.8s ahead of East Georgtown's Adama Roberts (44.30.4s). Rupununi's Regina Johnson placed third while Cassicanna Young (47:55.7s) from District Five finished fourth.
Roberts led for nearly the entire race while Straker was content to stay just about 100m behind before she progressively increased the pace upon entering the Police Sport Club ground, Eve Leary and eventually caught and passed Roberts with just over 120m remaining in the race.