K&S gets million dollars boost from New GPC
By Yonalla Dalrymple
The Kashif and Shanghai Organisation's end of year football extravaganza yesterday received the sum of one million dollars from the New Guyana Pharmaceutical Company.
Marketing Manager of the company Trevor Bassoo, yesterday handed over the cheque to Co-Directors Kashif Muhammad and Aubrey `Shanghai' Major at the company's Head Office, Farm, East Bank Demerara.
Bassoo stated that this was the sixth year that the company has been supporting the annual tournament which runs from December 16-January 1.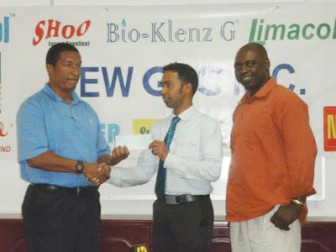 He added that his company is very pleased to be on board again for this year's tournament, adding that he has been impressed with the K&S tournament over the years.
According to Bassoo, the Kashif and Shanghai Organisation has been delivering quality sport and entertainment to the Guyanese public and said that level of the competition has forced the local players to elevate themselves and become more competitive which in turn has assisted in taking Guyana's football to a much higher level.
According to Bassoo, the donation will be given to the organisation in three forms with the sum of $750,000 to be spent on prizes that will be up for grabs at the tournament while the remaining $250,000 will cover the cost of television advertisements and the printing of invitations for the tournament.
Muhammad thanked the company for its long-standing support and stated that the K&S Organization was extremely satisfied to know that they can still put their confidence in the business community and call on them at any given time.
"We are very happy to know that this company would still be supporting this tournament," Muhammad added.