Flex Night hosts bodybuilding camp in Corentyne
Bodybuilders from several gyms across Central Corentyne participated in a camp hosted by Flex Night Inc in preparation for its Flex Night-Central Corentyne Flexout Competition set for March 2 next year.
A press release said bodybuilders from Windero Gym of New Amsterdam, House of Pain Gym, Powerhouse Gym and Hardcore Fitness Gym all of the Central Corentyne, went to the camp in Hampshire, Corentyne.
The session began with a review of developments in bodybuilding since Flex Night Inc. held the first outreach session in Central Corentyne in late October. The group heard that there has been an increase in the number of bodybuilders from the area and there are 15 now training for next year's event.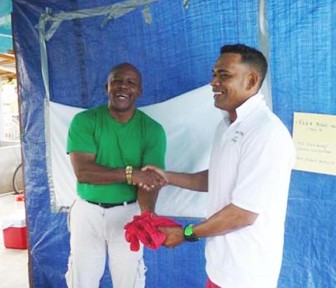 Managing Director Donald Sinclair made a presentation dealing with the different phases of the bodybuilding contest preparation, nutrition for mass and definition, personal grooming and finishing touches. This session was fully interactive and participants asked a number of questions relating to training systems, exercises for specific muscle groups, conditioning activity and contest grooming. At the close of the exercise special Flex Night souvenir T-shirts were presented to Kumar and Raheem Ali of House of Pain Gym.
The Flex Night International event will be held on December 8 at the National Cultural Centre.
Most Read This Week