Hikers Ladies shoot to 6-2 victory
The Diamond Mineral Water Hockey Indoor tournament continued yesterday at the National Gymnasium with Hikers Ladies trouncing their opponents 6-2 and Carib, YMCA and GCC Veterans also recording victories.
In the first game, Carib defeated Old Fort by a 4-2 margin in the veterans match. Nigel Simon excelled with three field goals in the 7th, 8th and 28th minutes while, Nezl Ramsammy scored in the 27th minute.
Dexter Whiles and Sonia Gordon with two field goals in the 13th and 30th minutes were the scorers for Old Fort. In the first half the score was 2-1 in favour of Carib.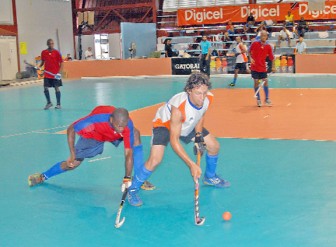 Game two saw the Bajans recording their second victory against Renegades. The YMCA men had a 3-2 victory. Rohan Thomas and Dario Lewis scored for the YMCA. Lewis scored two goals in the 19th and 27th minutes, while Thomas also scored in the 27th minute.
Shane Samuels and Trevor Young scored for the Renegades in the 11th and 26th minutes respectively.
Hikers Ladies recorded a victory over Malvern Ladies of Trinidad. Hikers scored six goals to Malvern's two. Maria Munroe in the 14th minute, Cora Fowler in the 16th and 31st minutes, Janella Munroe in the 21st minute, Latecia Chung in the 28th minute and Renee James in the 19th minute were the scorers for Hikers. Liselle Parris and Oire Trotman in the 10th and 38th minutes scored for Malvern.
GCC veterans defeated their Carib veterans by a 6-4 margin. Randai Ramsammy in the 2nd minute, Krik Adamson in the 12th minute, Adrian Dell in the 16th minute and Nigel Simon in the 29th minute scored for Carib. While, Rawl Davson had a double in the 6th and 27th minutes, Phillip Fernandes also recorded a double in the 14th and 25th minutes, Damon Woodroffe scored in the 8th minute.
However, Malvern and Hikers veterans tied at 2 all. Koury Barnett and Deryck Alexander scored for Malvern in the 22nd minute while Devin Munroe and George Melville scored in the 27th and 30th minutes for Hikers.
Meanwhile, the other results for Thursday were: Malvern defeating Carib by a 3-0 margin, Hikers defeating Fatima by a 3-1 score line, Old Fort downing Fatima 4-1 and Hikers upending GCC 5-4 in the Veterans match-up. Hikers trounced Bokra 4-1 in the ladies encounter while Hikers inflicted a 7-3 drubbing on GCC in the men's match.
Most Read This Week