Back Circle makes street football semis in thriller
-Broad Street, Leopold Street, West Front Road also advance
By Emmerson Campbell
Defending champions Back Circle and three other teams shot their way to victory, advancing to the semi-final round of the Guinness Greatest of the Streets Competition set for tonight at the National Cultural Centre tarmac.  Broad Street, Leopold Street and West Front Road also advanced to the semis and are one step closer to the $600,000 first prize after Sunday night's match at the Banks DIH car park. Back Circle edged East Front Road, 13-12, in a most entertaining and nail-biting game that went down to penalties. After Dexter McKenzie scored for East Front Road in the eighth minute, Wayne Wilson equalized for Back Circle three minutes later to knot the game at one-one. Both teams battled for a go-ahead goal but after 30 minutes of action the game went to overtime. The defending champions and their opponents were still tied after the extra period and the game went to penalties.
After both teams missed a penalty each, they were first levelled three-all and then went to sudden death. With expert marksmanship, the teams connected on six shots each and the organizers took the penalty shoot out to midfield. From there, the Back Circle snipers held their nerves and buried four more shots while the shooters from East Ruimveldt hit the mark on three occasions.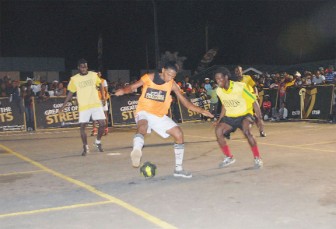 Leopold Street also won on penalties against Hope Street Tiger Bay, three-one. Broad Street B and West Front Road; however, needed no extra period to put paid to their opponents' hopes of qualifying for the semi-finals tonight.  Broad Street B defeated Sophia B two-nil while West Front Road trounced Queen Street Tiger Bay, three-one. Jimmy Gravesande and Daniel Favourite scored for Broad Street in the ninth and 13th minutes respectively. Michael Pedro (sixth minute), Hubert Pedro (eighth minute) and Randolph Wagner (14th minute) teamed up to give West Front Road their victory. Leon Fredericks' lone goal in the 10th minute for Queen Street was not enough.
In the four exhibition games, Oasis, Clippers Barbershop, Upper Level Barbershop and GT Masters trounced their opponents.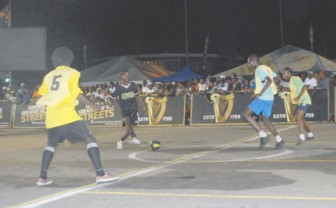 Oasis won two-nil against Quick Set Car Wash, Clippers Barbershop edged Guinness Bar, one-nil, GT Masters defeated YMCA, two-one and Upper Level needled Banks DIH Limited, two-one. In semi final action tonight, West Front Road will tackle Leopold Street while Broad Street will face Back Circle. There will also be two exhibition games: GT Masters will take on Guinness Bar while Clippers Barbershop will go up against Upper Level Barbershop.
Action starts at 8pm.
Most Read This Week