CONCACAF Integrity committee reports progress
NEW YORK,  CMC-A recently established CONCACAF Integrity Committee, set up to probe the financial dealings of the previous Jack Warner administration, is reporting that its work is progressing well.
Integrity Committee Chairman Sir David Simmons has reported that he is satisfied with the pace of the probe into the financial transactions of the Warner era.
Warner was CONCACAF president from 1991 to 2011 when he quit after being indicted by FIFA for allegedly facilitating the bribery of Caribbean Football Union (CFU) officials.
"The work of the Integrity Committee has been proceeding very smoothly and satisfactorily," said Simmons in a statement on Monday.
"It must be appreciated that our terms of reference cover a broad spectrum of activities,"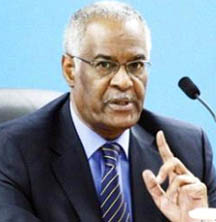 The three-member Integrity Committee met in September and October and will meet again twice this month as it continues its investigation.
The lawyers assigned to assist the Committee, Sidley Austin LLP, are reportedly carrying out a thorough financial probe in an effort to uncover hard evidence of all financial transactions.
Simmons said that the lawyers are also interviewing potential witnesses to give oral evidence to the Committee.
"That task involves the perusal of a vast amount of documentation, identifying its relevance to particular terms of reference, and marshaling and collating it before it can be placed before us.  It is painstaking, detailed work." Said Simmons
"All of this preparatory work is vitally important to the faithful discharge of our responsibilities and, so far, we are very satisfied".
CONCACAF announced the formation of the Integrity Committee following a meeting of its Executive Committee on September 13 in Mexico City.  The Integrity Committee was given oversight of all investigations pertaining to the previous administration and according to a CONCACAF statement "in order to rectify and ensure clarity" on pending issues within the newly reformed Confederation.
Items under investigations include the ownership of the João Havelange Centre of Excellence in Trinidad and Tobago.
Warner had claimed the Centre of Excellence was meant to be a gift for Caribbean football from ex-FIFA president João Havelange and was funded by the confederation.
However Webb revealed that the attorneys are also reviewing the matter to determine if the confederation has any legal right to the Centre of Excellence and whether there were any loans or guarantees taken out on CONCACAF property.
"We cannot make findings of fact in the absence of cogent evidence, so the time spent in unearthing evidence at this early stage is time well spent", said Simmons.
"Our goal, however, is the production of a fair and balanced report in the spring of 2013".