Leopold Street plotting Guinness football upset
By Emmerson Campbell
Will defending champions, Back Circle, repeat or will Leopold Street, the surprise team of the tournament claim the $600,000 first prize and bragging rights as the greatest street football team in Georgetown?
That question will be answered when the final of the Guinness Greatest of the Streets Football Tournament kicks off tonight at the National Park.
After weeks of intense combat, only two teams are still standing and according to players from Back Circle and the Werk-en-Rust team, they will continue to remain at ease.
"It is going to be an exciting and competitive game but we expect to repeat" said Captain of Back Circle, Andy Duke yesterday.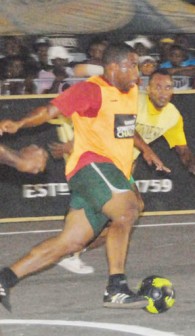 National midfielder, Konata Mannings who buried the penalty to clinch the victory for Leopold Street in the semifinal against West Front Road, echoed Duke's sentiments with regards to the excitement that the game will bring but disagreed about who the victor would be.
"Our team right now is very confident of a victory" said Mannings. "We defeated a lot of big teams in this competition to get to the finals, it will be a very entertaining and exciting game because both teams are very good but I like our chances".
One of the organizers of the tournament, Troy Mendonca stated that the games throughout the tournament have been well-attended and he expects the same tonight. Said Mendonca "We expect a large turnout for the final as usual because we have the defending champions Back Circle and the new kids on the block Leopold Street, based on the turnout from the semi finals and before, we found out that both teams have large support bases".
Mendonca added "I am expecting a very competitive game, Back Circle seems to be in top form and so does Leopold, they have held their own throughout the tournament and we expect a very entertaining game that the fans will truly enjoy, we can't complain about the support throughout the tournament and we expect the same tomorrow". Mendonca added that there will be lots of Guinness giveaways in the form of t shirts, whistles etc.
Before the finals, Broad Street B and West Front Road who lost in the semis to Back Circle and Leopold Street respectively will both look to end the tournament on a positive note when they face off in the third place playoff match. The second, third and fourth place finishers, will pocket $300,000, $200,000 and $100,000 respectively.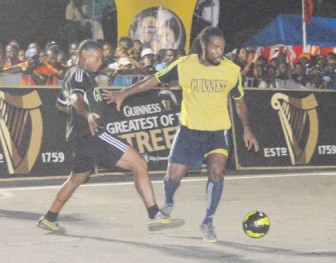 Meanwhile in the two exhibition games, Guinness Bar will face Upper Level Barbershop in the finals while GT Master's will tackle Clippers Barbershop in the third place playoff game. The winner will pocket $100,000 while the top three runners-up will take home $50,000, $25,000 and $15,000 respectively. Action kicks off at 20:00hrs. Admission is free and entertainment will be provided by the Guinness Deejays.
Most Read This Week