Amateur boxing could do with more support – Cuban coach
Financial support and better facilities could see the standard of amateur boxing greatly improve in Guyana, says Cuban coach Francisco Hernandez Roldan.
Coach Roldan sat down with Stabroek Sports at the Andrew `Sixheads' Lewis Gym in Albouystown where he was preparing for a training session with amateur pugilists.
Under the auspices of the Ministry of Sports, Roldan has been brought in to work with the Guyana Amateur Boxing Association (GABA) tofacilitate the development of their amateur structure. His services have been employed since March of this year.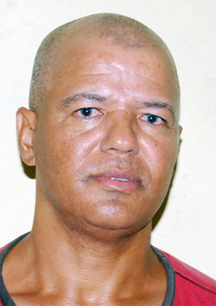 He commented "we have the talent but we need more economic support in order to improve and make progress. Currently we are far away from what is expected of amateur boxers on the world level but we can get there and achieve a lot of great things if things are put in place".
He further stated that better equipment and improved facilities are just the beginning as talented pugilists need to be given a stipend, provided with the best nutrition and supplements and encamped for longer periods so that they can train for two sessions every day  six days a week to better hone their skills.
"Competitively more also needs to be done", he stated. "There is the need for more competitions internationally. That our boxers can improve at a faster rate from going overseas and competing which will not only provide the experience but will also go a long way in improving the mental strength and capacity of young fighters", Roldan added.