Kwakwani Strikers clinch spot in GFA Cup
Kwakwani Strikers (Rusal) have captured one of two vacant spots in the round of sixteen of the Banks Beer/GFA Cup after defeating fellow Lindeners, Eagles United.
The Banks Beer/GFA officially kicks off on Sunday at the GCC Ground, Bourda.
Kwakwani Strikers defeated the youthful Eagles United by a 3-2 margin in regulation time. The score was one-all at the end of regulation time.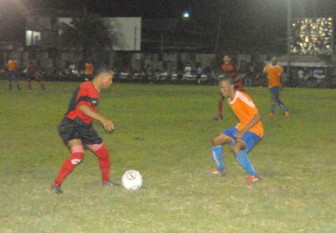 In the first half Alistair Johnson scored the first goal for Eagles United. However Kwakwani managed to find an equaliser in the second half off the boot of Norville Adrian in the 83rd minute.
Into extra time, Eagles United seemed to have lost their touch with the replacement of three of their better players. Also the soggy field did not work to their advantage too, as they were just not prepared to play on a wet field.
Both teams because of the soggy outfield missed several opportunities at goal. Strikers were right in front of the uprights and prepared to take the shots when they suddenly slipped and fell, missing what could be described as easy goals.
Both teams scored in extra time but it was Kwakwani that clinched the go-ahead goal before the referee blew his whistle, signalling the end of extra time.
Norville Adrian scored in the 114th while Joshawn Thom scored in the 116th minutes for Kwakwani. Eagles United's final goal was scored in the 96th minute by Clive Nobrega.
Kwakwani Strikers will go on to play GFC in their first match on December 19th in the round of sixteen to be played at the GCC Ground, Bourda.
Meanwhile, Anns Grove defeated Botofago in the opening match of the third preliminary match by a 1-0 margin. The lone goal was scored by Wayne Rogers in the 32nd minute. Anns Ground will play the winner of Blueberry Hill Football Club and Caribbean United in the second round preliminary round. The winner of that match will secure the final vacant spot to complete the round of sixteen.
Most Read This Week