Reece upset in Malta Supreme 40-mile road race
Ray Millington upset top Berbice cyclist Neil Reece to win the inaugural Malta Supreme 40-mile road race in Berbice last Sunday.
Third place went to Elijah Bijadder with Rohan Persaud, fourth, Syborn Fernandes fifth and Juban Crawford sixth.
Millington also captured six of the eight prime prizes with Bijadder taking the remaining two.
Bijadder was the winner of the junior category from Crawford second while beginners Romel Crawford, Audial Ross and Richard Alexander, took the next three places.
The lone female Marica Dick and Fernandes, the only veteran cyclist also received prizes.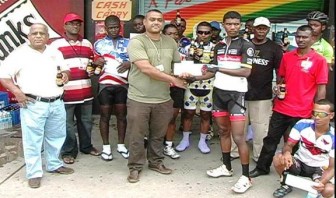 Coach of the Flying Ace Cycle Club (FACC) and organiser of the event, Randolph Roberts noted that the race was accident free and thanked the police for the support given in 2012.
Marketing Manager of Banks DIH Berbice Joshua Torrezao thanked the cyclist for supporting the Malta Supreme race and took the opportunity to promote the product pointing out that bodybuilder Hugh Ross is the brand ambassador for the product.
"He uses Malta Supreme after his workout and you should the same… It is a meal in a bottle," Torrezao stated.