Support for Kennard's Boxing Day horse race meet
The annual Kennard's Memorial Club Christmas meet which will run off on Boxing Day yesterday received substantial support in the form of cash donations from Ansa MCal, Digicel and Demerara Distillers Limited (DDL).
The race meet which will be staged at the Bush Lot Farm, Corentyne, Berbice, received substantial amounts of cash and trophies from the three entities to aid in awarding the top horses at the event.
For Ansa MCal, the meet will be sponsored under the Carib Beer brand while DDL will be sponsoring the event under its El Dorado brand.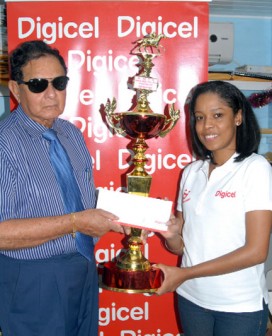 The nine-race meet feature event will be the B & Lower One Mile race. The sum of 1.2 million dollars will be up for grabs in that event.
Retired Chancellor of the Judiciary, Justice Cecil Kennard, who accepted the sponsorship cheques from the three companies' representatives, commended the sponsors for their support and mentioned that without corporate support, the meet would not be possible. Kennard also mentioned that he hopes the sponsorship continues in the years to come.