Donna Ramsammy James launches Caribbean Footprints
'Caribbean Footprints' the latest in Donna Ramsammy James's annual series of exclusive and elegant ladies' and men's wear, was launched last Sunday at the designer's residence.
The first line of the designer's Shape 2013 Collection, incorporating the softness of Asia, the depth of Africa, and the colour of the Caribbean, it pays an artistic tribute to the contribution of the Caribbean Diaspora to the world.
The one-hour presentation was a stunning display of 157 pieces. The creations were strikingly displayed by confident models reflecting the rich ethnic and cultural diversity of Guyana. The designs covered a gamut: dresses, skirt suits, tops and tights, pant suits and myriad styles of men's shirts, presented in reds, yellows, oranges, fuchsias, purples and more. Each sequence was presented against a background of music from the English, French and Spanish-speaking Caribbean.
The outfits were the envy of many and one could distinctly hear the women in the audience pointing out just which ones they "must have".
The entire show lasted for just over an hour and the ending was just as on cue as the opening. The models came out jamming to Bob Marley's "One Love" with the creative genius herself and were introduced to satisfy the curiosity of the guests. As a bonus, Dr Vivienne Mitchell-Amata, the reigning Ms Guyana Renaissance, an annual national pageant for professional women, modelled her evening outfit which was designed by Donna Ramsammy James herself.
The round of applause was quite explosive as the guests showed their appreciation for the time and effort put into not only designing the clothes but the level of organisation that went into putting together an event of that magnitude. The designer described it as art through fashion, music, choreography and mime.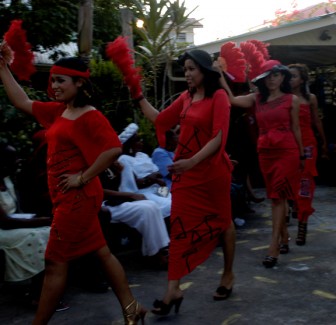 Donna Ramsammy James is a super creative fashion designer and a pioneer in her own right. Her fashion line is distinctive for its hand-painted and tie-dye designs and dazzling colour; each design clearly unique and reflective of her international and multicultural background and exposure. (Allana Bose)
Most Read This Week