Countrywide Diwali motorcades start tonight
Starting tonight, gorgeous float parades will illuminate the roadways in various parts of the country as the Guyana Hindu Dharmic Sabha holds its eagerly anticipated annual Deepavali motorcades.
According to a press release from the Sabha, the annual Deepavali motorcades have been consistently organised for the last 38 years and have become synonymous with the celebration of Diwali in Guyana. Guyanese, young and old and from all walks of life, line the streets each year to view the spectacular floats which are true testimony of Guyanese creativity.
Motorcades will be held in each of the Sabha's Praants. Tonight, the release said, floats will leave Affiance and Sparta and converge at the Anna Regina Community Centre Ground, Essequibo.
Tonight also, the West Coast Demerara motorcade will leave Ruimzight and Parika and converge at the Oceanview Mandir compound where there will be a grand cultural programme.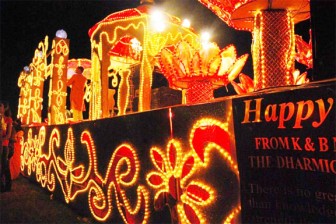 The West Berbice motorcade will leave Bushlot and travel to the Blairmont Community Centre Ground tonight for cultural programme and presentation of prizes.
Tomorrow night, there will be three motorcades in Berbice. In East Berbice, the floats will assemble at the Churchview Gift Shop, New Amsterdam at 6 pm and then proceed along the Main Road to the Banks DIH Tarmac into Princess Elizabeth Street to the Canje Welfare Community Centre Ground.
The Central Corentyne Praant Motorcades will leave from Bushlot, Corentyne and Number 1 Village and converge at the Port Mourant Centre Ground.
The Upper Corentyne Praant's motorcades will leave Crabwood Creek and Number 36 Village for the Tagore High School Ground.
The release noted that the biggest and final motorcade will be held on Monday in Georgetown/ East Coast Demerara. Beautifully illuminated floats will assemble at the Shri Krishna Mandir, Campbellville at 6 pm and then move west along Campbell Avenue into Sandy Babb Street, north into JB Singh Road and east along the Seawall towards the LBI Community Centre Ground where there will be a fabulous cultural programme feauring a number of top artistes including the Dharmic Nritya Sangh, singers – Sookrane Boodhoo, Rekha Singh, Mona Gowkarran, Suchitra Rampersaud, the Caribbean Hotshots Band, special guest artistes and many more. Over $3 million in prizes and trophies will be presented to the best floats. There will also be special prizes for the best Mandir float in the small category and best Mandir float in the large category as well as for the best designed float overall. Mandirs, businesses and individuals interested in participating in the motorcade can call 227-6181 or 225-1880 for details.
The Dharmic Sabha said it wished to thank the Ministry of Culture, Digicel and Banks DIH ICee drinks for the generous support given to the events, which are all free and noted that no alcohol is allowed.
Events already completed on the Sabha's Diwali calendar include Diwali Utsav at the National Stadium featuring outstanding performances from leading Bollywood Playback singer, Shreya Ghoshal, and her troupe; Rangoli competitions and a Diwali village.
Most Read This Week