Apsara, Andy Rattan wow at Grenada Diwali show
The Indian Cultural Organisation (ICO) of Grenada invited the local Apsara Dance troupe and Andy Rattan, a top 5 singer from the GT&T Jingle competition, to perform and represent Guyana at its annual cultural Diwali show.
From the Apsara Dance Troup were Leannie Persaud and Lucria Rambalak who wowed the audience with their tantalizing moves while Rattan left the audience mesmerized with his voice, that even at back stage lots of young ladies were inquiring who he was and where he was from.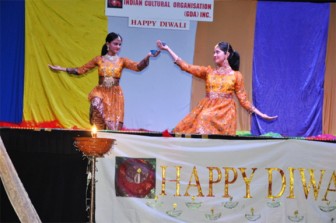 This is according to a press statement from founder of Apsara, Chandini Ramnarain, who added that the inquiries made the night more entertaining and led to the local representatives offering photo opportunities to persons who appreciated their performances.
Ramnarain stated that the ICO of Grenada is trying to keep the Indian culture alive since there is just a small Indian population. In assisting, she added, Apsara not only performed but donated costumes and saris to assist the local dancers as an encouragement.