Pizza Man for Theatre Guild from Nov 23
Pizza Man, an adults-only comedy written by American Darlene Craviottie and adapted for local stage and directed by Collette Jones-Chin will be staged at the Theatre Guild from November 23 to 25 at 8 each night.
According to a press release, actors are Sonia Yarde, Nicola Moonsammy, Mark Luke-Edwards and Leon Cummings star in play, which addresses gender issues with hilarity.
It is based on the lives of two young women in their 20s and 30s who share an apartment. It is a Friday night and these two women are faced with loneliness:  one was dumped by her married boyfriend, the other laid-off by her chauvinistic boss. They are brooding about life, discussing their problems and then decide that to get back at men they would rape a man.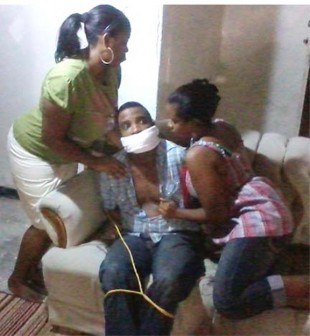 One of them gets hungry and orders a pizza, which is delivered by the ideal specimen: cocky and full of himself. They invite him in and try to rape him.
By the end of the play, however, they are talking to one another, having come to the realisation that both genders, even though they fight have similar problems and need each other to get by.
The whole evening serves as catharsis for them all.
Jones-Chin said that by doing the play she hopes to raise awareness of the importance of men and women in each other's lives and the balance that can be struck if they give the respect that is due to each other.
Most Read This Week