St Kitts PM fires senior minister
St Kitts PM Denzil Douglas tonight announced that Senior Minister Timothy Harris had been dismissed for undermining the ability of the government to discharge its functions.
In an address to the nation, the PM also accused Harris of wanting to become Prime Minister. Harris in recent weeks had signalled his intention to oppose several government initiatives and as a result this raised concerns over the principle of collective Cabinet responsibility. Harris had also declined to say whether he would vote with the government on a no-confidence motion that is to come up soon.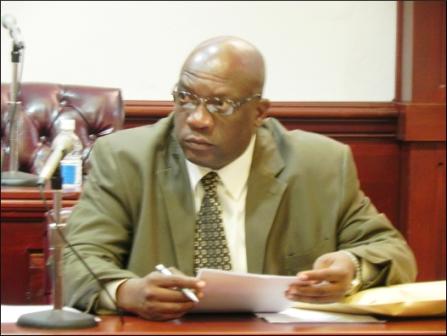 Basseterre had been gripped by speculation over the showdown between Douglas and Harris.
In his address, Douglas said "It seems quite clear that Senior Minister Harris does not regard himself as being bound by the collective responsibility of the Cabinet and this could become disruptive to the smooth flow of government business. Specifically Senior Minister Harris has refused to support the Government sponsored "St. Kitts – Nevis – Anguilla National Bank Limited (Vesting of Certain Land) Act"; He has indicated to the Cabinet and to the entire country that he will not support the Government-sponsored Senators (Increased of Number) Bill 2012; He has consistently refused to confirm to the Cabinet that he will support the Budget when it comes before Parliament for approval; and he has refused to confirm to Cabinet that he will vote against a Motion of No Confidence in the Government of which he is a Senior Minister. Even more critically he has clearly expressed his unwillingness to work with the leadership of the Government and of the Labour Party to advocate and implement critical policies of the Government."
The PM said he then formed the opinion that Harris would not participate meaningfully in government until he is appointed PM. Douglas said "It is not within my power to grant Party leadership to anyone. It is the members of the Party that must do so. Similarly, it is not in my power to leave position of Prime Minister in my Will or to give to whomsoever I wish. The Prime Ministership is not of a Dynasty or Monarchy.  The choice of Prime Minister rests in the hand of the people of this country."
Noting that it was the right of Harris to express his views contrary to the government of which he is part, Douglas said that when the differences are so fundamental that they could hinder the government's ability to perform, action has to be taken.
"It is in this context that I have, today, asked His Excellency the Governor General to revoke the appointment of the Honourable Timothy Harris as a Minister of Government and he has acted accordingly, in keeping with the provisions of the Constitution", Douglas said.
He then announced appointments to cover Harris' portfolio.
Harris joined the government as Foreign Minister in 2001.