Bonuses withheld over poor performances nothing new – Best
Chief of Staff of the Guyana Defence Force (GDF) Commodore Gary Best said yesterday that the Christmas bonuses of some officers were withheld based on their poor performance and it is something that has been done in the past.
In a telephone interview with this newspaper, Best said the commanding officers of each division had submitted a list with the names of persons who had not performed well and should not receive bonuses.
These lists would include those who were absent without leave, who sold duty-free cars, were involved in accidents, among other factors.
The lists, he said, were then reviewed by Best and a panel made up of his top commanding officers. If during the review process there are officers who the review panel feels should receive bonuses despite their performances, then those names are pulled from the list, making them eligible.
"…This is not a one-man show and it is not a task for the Chief of Staff," he said, when questioned about the action taken.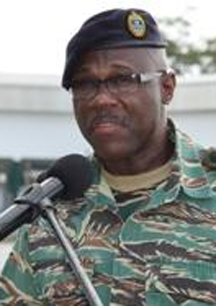 When asked if the President had provided any preconditions for the distribution of the bonuses, Best stated that this practice had been a historical one, which was present under the administration of former president Bharrat Jagdeo and therefore continued under the present Commander-in-Chief Donald Ramotar.
A source told this newspaper that two colonels had received their bonuses despite having disciplinary issues and that the number of officers whose bonuses were withheld was in fact about 100. The source also mentioned that officers from the unit which served in Linden during the July protest were included in the list of persons not eligible for bonus.
Some of the officers are reportedly making efforts to have the matter addressed as they have stated that it is not within the powers of Best to decide who should or should not receive bonus. The Commander-in-Chief of the armed forces had announced that the joint services were to receive a one month bonus. There was no mention of any conditions to be applied for the distribution of the money when the announcement was made.
The officers had complained that the move was a method of disciplining them even though the disciplinary matters that involved them were dealt with.
Most Read This Week