Relative charged with murder of Plaisance businessman
Police say that a relative has been formally charged with the murder of Deryck "Backatoo" Cox, the Plaisance businessman shot dead on Saturday December 22nd. The relative, who was detained by police on Boxing Night, had been positively identified by eyewitnesses who said they saw him and two other individuals fleeing the scene of the crime in a white vehicle which had no licence plates.
Residents also reportedly saw the relative and two other men in the same vehicle driving around the area the night prior to the shooting.
A resident told Stabroek News on Monday that when he visited the relative at the Sparendaam Police Station, where he was being held, he was told by the man that he was being wrongfully held since he had not been to Plaisance during the week the murder occurred.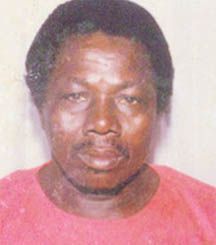 The resident said that the relative was lying blatantly since he had seen the suspect in the village on the day of the murder while drinking with some friends. He said that suspect, who had acknowledged him, maintained that he had not been in the village.
The resident added that that the suspect was also in the village on the evening of the 21st. The resident said that he was inside the yard when he saw the suspect walk up to Cox's shop, where he was greeted with a hug and a kiss from Cox, who asked him "when last meh see yuh."
Ayodele Hall, the man's great niece who was home at the time of the robbery told Stabroek News that some time around 10:00pm she heard two gunshots ring out, after which she heard the elderly man call out for help.
Hall's residence and Cox's shop/residence are both in the same yard.
Hall, who was at the time home alone with her infant child, said that she dared not go outside to see what was happening, if not for her own sake, for the safety of her child. Instead she says she called the man's nephew, Marlon Temmott, who was at a dance not too far from the scene of the crime. She said that by the time Temmott had arrived the attackers had made good their escape, leaving Cox gasping for air at the entrance.
She suggested that the men's easy escape was aided by the fact that there was a dance the same night which was attended by most persons who were still on the streets at that time.