Beenie Man makes donations to Ptolemy Reid Centre, Child Protection Agency
Jamaican dancehall star Beenie Man yesterday donated needed school items during visits to the Ptolemy Reid Rehabilitation Centre and the Child Care and Protection Agency.
"Meh rich and meh have money, but is not about me is about this right here," Beenie Man, whose real name is Anthony Moses Davis, said of the donation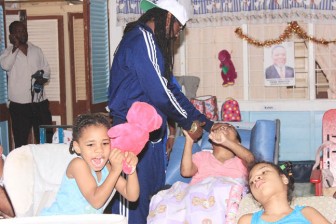 He travelled to Guyana to perform after the Guyana Football Association/Banks Beer Knockout Cup, held on January 1, 2013 at the Guyana Cricket Club ground.
Davis, himself a former orphan, explained that as citizens we must stop looking to government to do something about the serious situation facing our children and take actions ourselves.
During his visit to the Ptolemy Reid Rehabilitation Centre, he not only interacted with the 12 individuals present at the presentation, but presented some of the items to a few of them as well. Davis fought to hold back tears as he witnessed the conditions of the individuals in the care of the Centre.
He stated that the visit was bittersweet because though he wanted to make the contribution, it hurt him to see the state that some of the children were in.
During the visit, Davis began beating a tune on a table, which invoked varied responses from the differently-abled children present. One particular little girl, Franca, started laughing ecstatically and moving from side to side, this despite her being diagnosed with Cerebral Palsy (CP). CP Cerebral palsy (CP) is a group of non-progressive, non-contagious motor conditions that cause physical disability in human development, chiefly in the various areas of body movement.
Davis said that parents need to start acquiring a better understanding of their children's conditions so that they can figure out the best way to address it. "I was one of these kids, I was where they are, but where I was made me what I am today," he added.
The Ptolemy Reid Rehabilitation Centre was originally established in January 1967, by the Ministry of Health to provide rehabilitative services for those children who had suffered residual paralysis following the 1960 and 1964 poliomyelitis epidemics.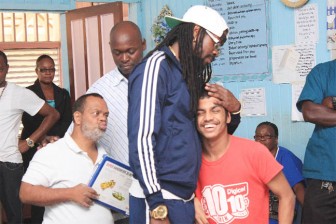 The Centre is capable of providing services for up to thirty residents while the out-patient clinics register in excess of 100 new patients annually.
The Centre has a policy of whenever possible employing and training persons with disabilities and at present in the areas of nursing, security, special education, clerical section, persons with disabilities are represented.