Guyanese, two others for trial in St Maarten over murder of US couple
A  Guyanese man is one of three persons scheduled to go on trial in the Dutch Caribbean island of St Maarten for the murder of a couple from South Carolina, US.
The Associated Press reported that a judge said today that the trial will begin April 9, with a verdict likely in May.
Michael and Thelma King of Mount Pleasant, South Carolina, were found stabbed to death in their beachfront apartment in September. Police later arrested a Jamaican security guard, along with a 17-year-old from St. Maarten and a 20-year-old from Guyana. The Guyanese man had been identified as Jamal Jefferson Woolford.
AP said that attorneys for the two younger suspects have requested a mental evaluation ahead of the trial.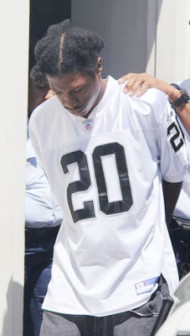 Most Read This Week