Ministry issues warning over market tarmacs
The Ministry of Local Government and Regional Development says it will aggressively pursue relocation of roadside vendors this year to market tarmacs that were handed over last year and will resort to police help if necessary.
GINA said that on a recent edition of the National Communications Network Programme (NCN) Ministerial Forum, Minister in the Ministry Norman Whittaker said that the ministry will be pressing this issue in 2013 and could even seek support from the police.
"We have constructed at much cost, several tarmacs in several regions in the country and we are disturbed that maximum use is not being made of these tarmacs," the Minister said.
He said that instead of using the tarmacs, the vendors have continued to sell on road sides, and in some instances on reserves. Whittaker said, according to GINA, that the ministry is not prepared to allow this to continue, and with support from the Neighbourhood Democratic Councils (NDCs) will be emphasizing this issue.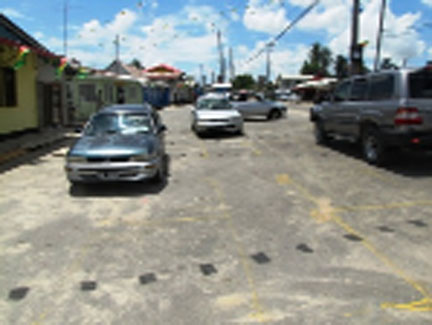 "We have started to engage the NDCs in some of these areas with respect to engaging these vendors and give them a timeline," he warned.  He further said that if this avenue proves unsuccessful, "we will elicit the support of and the assistance of the police if necessary to have vendors relocated."
During 2012 the ministry handed over about 10 market tarmacs in communities such as Diamond/Grove, Best Klien /Pouderoyen, Toevlugt/Patentia, Charity, Plaisance, Buxton and Haslington.
Some residents have criticised the investment in tarmacs saying that they are not needed and that they ignore the characteristics of the community marketplace. Parika vendors have been engaged in a longstanding battle with the authorities.