Teen needs help for heart surgery
Randy Cameron, 17, is in desperate need of open heart surgery and his sister is appealing to the general public for financial assistance to save his life.
"I don't want to lose my brother," Marcia Cameron told Stabroek News.
According to her, the cardiologist at the Caribbean Heart Institution (CHI) has said that there is no facility in the English-Speaking Caribbean which can help her brother, who was diagnosed as having the congenital heart disease Tetrology of Fallot. The heart defect involves several anatomical abnormalities that cause mixing of oxygen-poor blood with the oxygen-rich blood being pumped out of the heart and into the circulatory system of blood vessels. This condition is classified as a cyanotic heart disorder.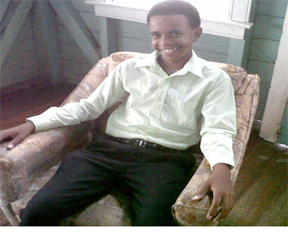 Randy, who attends the New Amsterdam Technical Institute, previously underwent open heart surgery in 2009 in India, through the Kid's First Fund.
Marcia told this newspaper that her brother's condition is getting worse. She said that he was born with a hole in his heart and was told that it would close up as he aged. However, at 14, Randy was experiencing constant pain in his heart and the diagnosis was made after several check-ups at the CHI.
Fortunately, Marcia was able to make contact with the then First Lady Varshni Singh and her brother was given assistance to travel to India, where he had his first surgery done.
She said that presently his eyes would get red and he is increasingly experiencing headaches. He groans at nights from his pain. But Randy, Marcia said, does not complain a lot about his pains, although she can tell he is suffering from his expressions.
Marcia said that after being told that no one at the CHI could help her brother and that the surgery cannot even be performed in the Caribbean, she had a conversation with Doctor K.M Cherian, a cardiologist in charge of the Frontier Lifeline Hospital in Chennai, India and he told her that the total cost, including transportation, would be US$13,500.
So far, she has only managed to raise GYD$90,000.
She said she took a letter to the Ministry of Health requesting assistance, but she is still waiting on a response from the ministry. She admitted that she does not know if the ministry will assist her with the entire USD $5,000 it would normally give, since it had contributed to her brother's first surgery through the Kid's First fund.
Marcia explained that although the doctors did not give her a deadline for the surgery, she would like for it to be done as soon as possible, since her brother's condition is getting worse and he may die if it is not carried out soon.
Persons can make donations for Randy to Republic Bank account #158-335-0 or they can contact Marcia on 625-0326.