Cops look to security footage for clues in guesthouse slaying
Investigators are trying to enhance the images captured by surveillance cameras installed in the compound of the Cool Breeze Guesthouse, where businessman Imtiaz Roopnarine was shot dead on Thursday.
This is according to Crime Chief Seelall Persaud, who yesterday said that the motive for Roopnarine's murder remains unclear.
At around 5:30am on Thursday, Roopnaraine, 38, of Alexander Village, was attacked and shot to his head by a gunman in the compound of the hotel, police had said.
However, acting Police Commissioner Leroy Brumell had also told this newspaper that Roopnarine ran back into the guesthouse compound after at the start of the attack but was pursued by a gunman who jumped the fence. As a result, it has been suggested that Roopnarine was the target of a hit.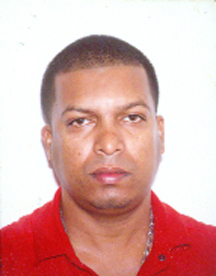 Persaud told Stabroek News yesterday that there are a number of circumstances that the police are looking at, including his deportation from the US for aggravated assault, to ascertain why he was targeted.
Although there are claims by the man's relatives that a gold chain and a gold band that he was wearing were stolen by the gunman who chased after him, Persaud said that the investigators were still looking to see if the shooting was robbery-related.
Persaud indicated that the police have gotten a statement from a key eyewitness.
When Stabroek News visited the man's Lot 169 Mandela Avenue home, his relatives were preparing for his wife's arrival. One female relative said that a post-mortem examination was done and he is to be buried today.
The relative said that they have not heard anything new and like the media the family was also looking for answers.
This newspaper was reliably informed that the man was not a regular visitor to the hotel.
This newspaper was told by a senior police officer that the man checked into a room at the Guest House around 4 am on Thursday. Investigators believe that Roopnarine was trailed to the guesthouse and his attackers waited for him to exit.
This newspaper was told that the gunman and a waiting accomplice escaped on a motorcycle.